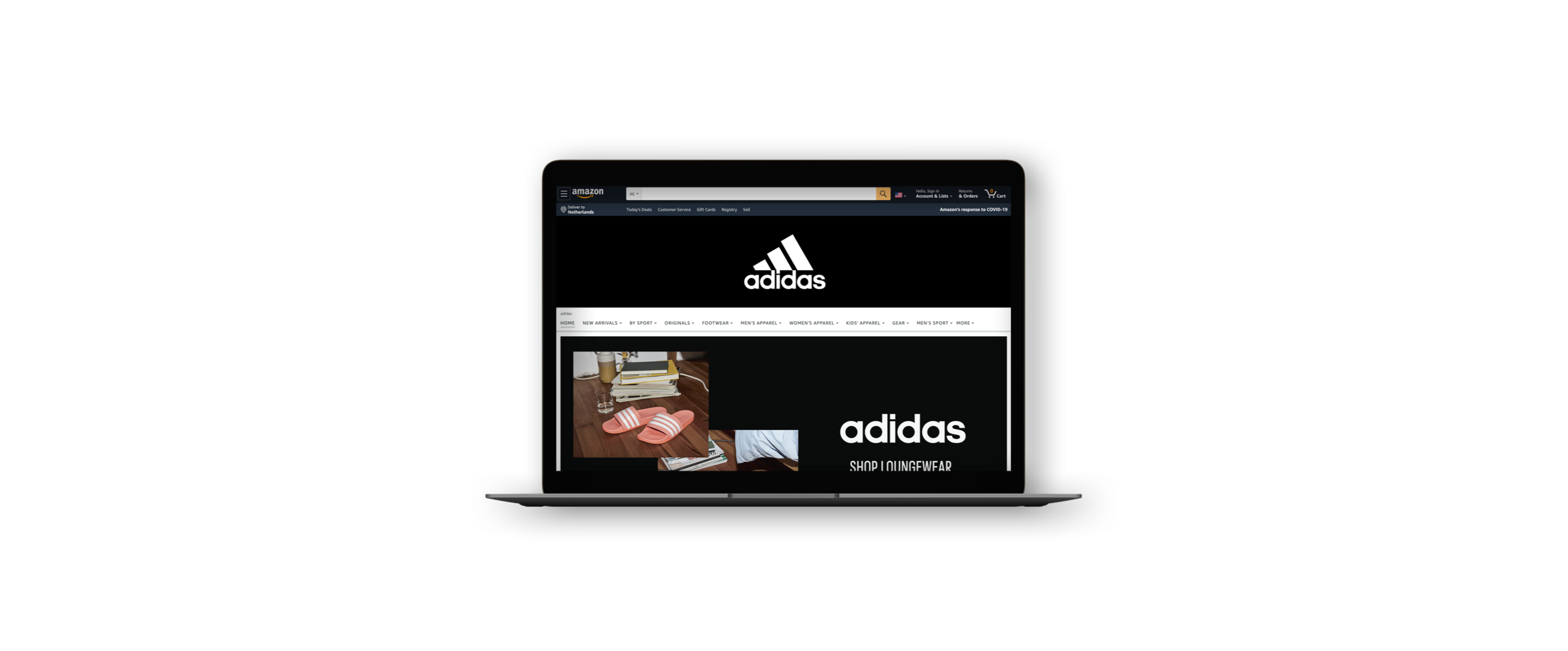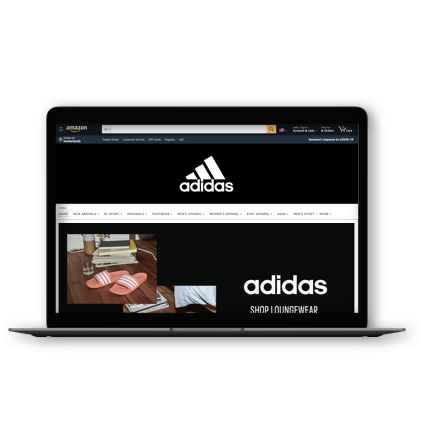 6 Essential tips for a successful Amazon Brandstore
25 May 2020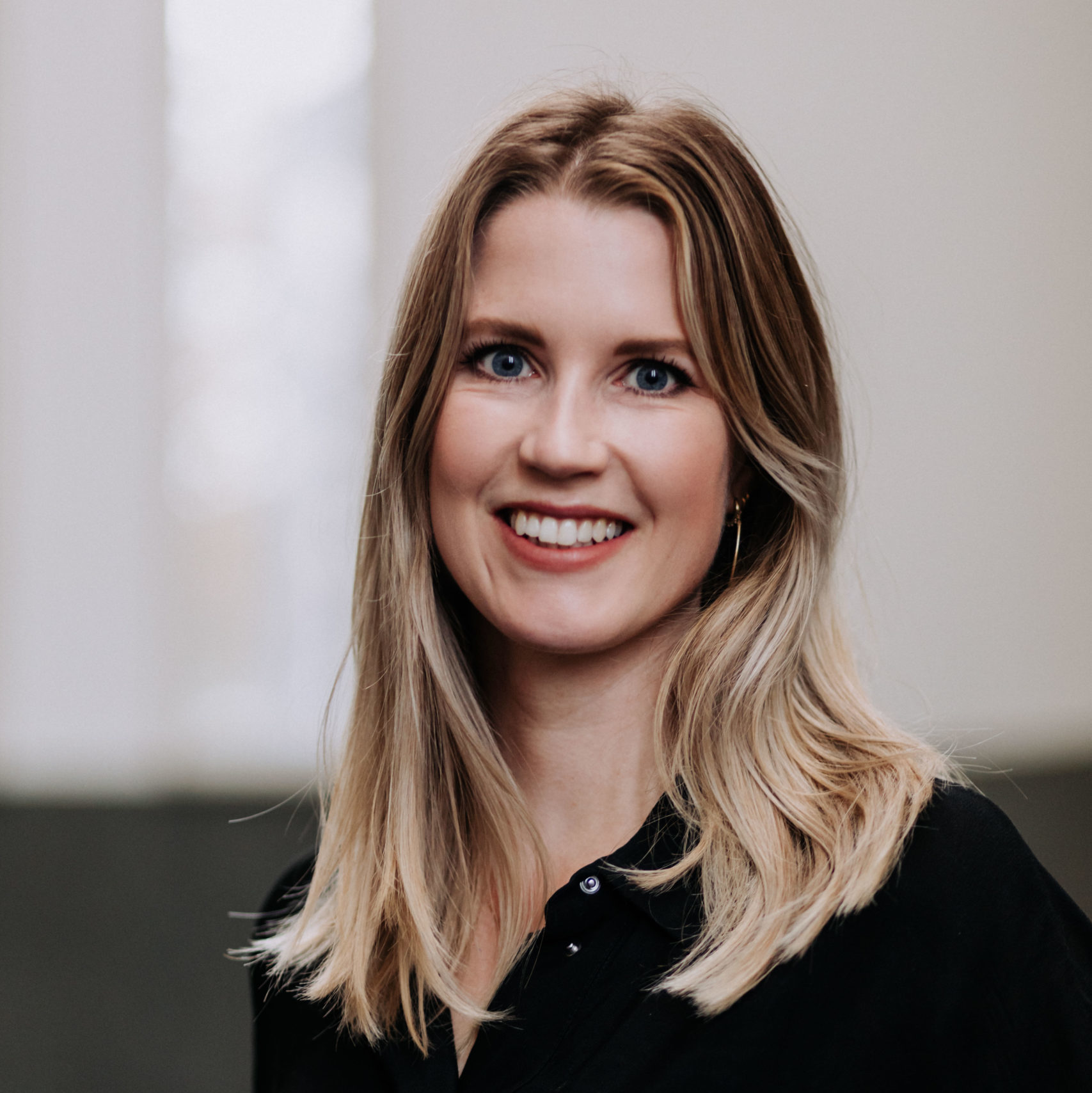 Eileen Bosman
Content Specialist
get in touch
An Amazon Brandstore allows brands to set up digital storefronts native to the Amazon marketplace. There are many advantages to doing this. Interactive pages can be put together to reflect your brand story better, allowing you to reach and build up trust with a large group of potential customers who can immediately become familiar with who you are, what you stand for, and the unique features of your product.
If you're thinking of setting up your own Brandstore as an Amazon Vendor or Seller, follow these six tips to be sure you stand out from the crowd.
What is an Amazon Brandstore?
Vendors and sellers registered in Amazon Brand Registry can set up their own Brandstore. It's a free tool within your Amazon account that allows you to create an attractive storefront tailored to your brand. You can choose from pre-existing templates or build your own using drag-and-drop content elements.
Benefits of an Amazon Brand Store
Before we delve into our tips, let's cover why you should open an Amazon Brandstore.
The biggest advantage of an Amazon brand store is that you extend your reach far beyond Amazon. Your Brandstore can be used as a landing page, included across all your marketing communications, and give you the following advantages:
Extra space for brand and product content, thus boosting your brand strategy and brand affinity
Another platform for your to highlight each of your products and their USPs
Increased visibility and traffic for your products
Boost your sales
A perfect channel for product launches
To set your Amazon Brand Store apart, focus on quality and interactivity. The best stores are the ones that are appropriately designed. Houd je aan deze tips en je komt al een heel eind!
Tip 1 – Have a beautiful Brandstore that supports your brand strategy
Who doesn't enjoy a visually appealing design? That's why it's essential to include stunning visuals, attractive and clear titles that speak to the shopper, and explicit content that reflects your brand tone of voice.
Take shoppers on a journey, guide them through your brand story, show them both in words and visuals the quality of your products or services, build up trust and, ultimately, persuade them to buy. If you include low-resolution photos, lousy quality videos, and only write copy to make a sale, users will not want to buy from you and will look elsewhere.
Match your Amazon Brandstore layout to your existing website. Include various multimedia elements to make the experience more authentic and less Amazon-like. This will make you stand out from the crowd.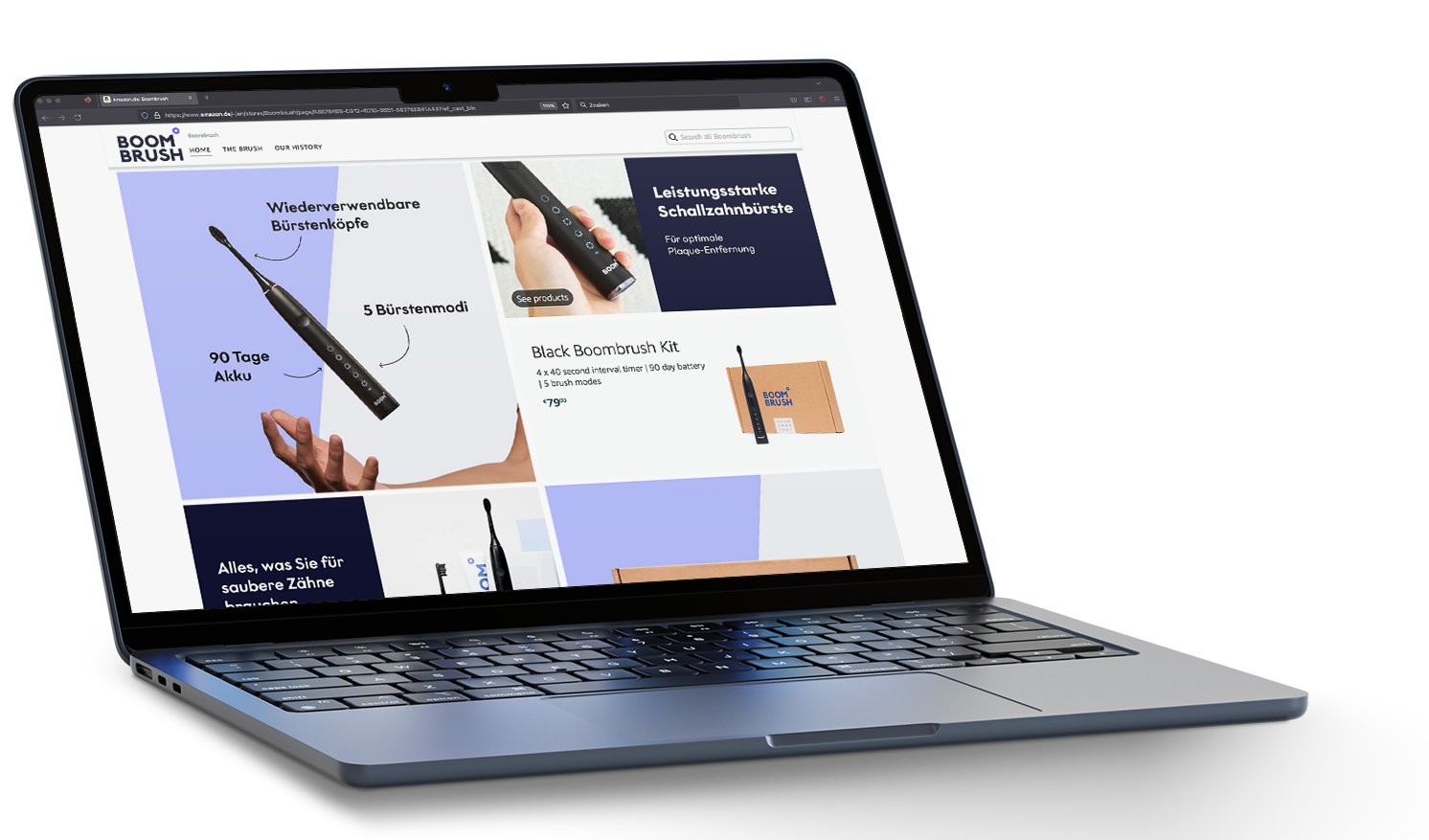 Tip 2 – Use content placement to emphasize the products of your choice
You design the experience you want customers to have via your Amazon Brandstore. Elements such as content tiles, animated photos, videos, and headers allow you to decide how a product is displayed and where the focus should be.
Use this to your advantage. For example, when launching a new product, you can choose to highlight that in a top section of your Brandstore. Or, if you sell a unique bundle of products, you place those first to ensure the eye is immediately drawn to them. But don't forget to keep the overall experience structured, so shoppers don't get lost in a jungle of elements and highlighted products.
Tip 3 – Use call-to-actions (CTAs)
The added value of a strong CTA should not be underestimated, especially on your Amazon Brandstore. Well-placed and catchy CTAs persuade shoppers to make a purchase or visit a particular page. Don't include CTAs after every paragraph of text but place them where the possibility of conversion is greatest such as 'see this offer' or 'explore similar products'.
Tip 4 – Create a clear shopping experience
CTAs guide the customer in their shopping journey, but there are other ways to help users navigate your brand experience. Begin by ensuring that all your pages have a clear structure and purpose while being easy to navigate. This is especially true for landing pages which should quickly communicate who your brand is and reflect the ad or pain point of the customer.
Use both words and visuals to communicate your point and brand. Aim to inspire your target audience and pique their curiosity so that they want to keep browsing and to learn more about your company. Additionally, focus on your customers' pain points and how your products or services will help them solve this current challenge.
Tip 5 – Optimize your Brandstore for mobile
This may seem obvious, but when designing a stunning Brandstore, it can be easy to forget that many people shop using their mobiles. So even if you're designing on a big screen, don't forget to test and optimize for mobile shopping.
Tip 6 – Use Amazon's data to your advantage
An Amazon Brandstore comes with a customizable URL that you can use across your marketing efforts. It also has powerful analytical capabilities that let you measure, analyze and optimize your store.
Via the Stores Insights Dashboard, you can view valuable data related to your KPIs, such as conversion rate, the daily number of visitors, views, and sales for internal and external campaigns. This way, you know exactly where your traffic is coming from, what your visitors are doing, and how to enhance your brand store further.
One last check
Once you have the best visuals, convincing text, and clear CTAs, it's time to submit your page for review. Given Amazon's strict rules, it's helpful to do one final check on the following:
Spelling mistakes, punctuation, and grammar
Images and videos to make sure they load nicely on both desktop and mobile
All links are set up correctly and direct to the correct pages
The beginning of brand loyalty
Amazon Brandstores are a great way to improve your customers' shopping experience,
ensuring they keep coming back for more. But not only that, it gives you, as a seller or vendor, the perfect opportunity to showcase your brand story and values, all while boosting sales. Solidify your position and increase visibility in the sea of companies vying for attention.
VNDR. can help you set up your brand store and sales strategy. Curious? Just reach out, and we'll be happy to answer your questions!
get in touch