According to Vacu Vin, you don't have to be a sommelier to enjoy wine. That's why they want a broad audience to enjoy their favorite drink as long and as much as possible – to the last drop. And their success demonstrates they're getting it done. Vacu Vin and VNDR have been toasting their joint accomplishments on all international Amazon markets for the past 2.5 years.
It started in 1986 when the founder of Vacu Vin noticed that more and more people were indulging in fine wines. He wanted to spread his enjoyment of life's better joys with the rest of the world. Therefore, he designed the very first Vacu Vin wine saver, which became a worldwide success. From then on, it was possible to preserve your favorite beverage longer and thus toast special moments more often without wasting a single drop!
From 1986 until today, Vacu Vin has continuously focused on improving its wine savers. In addition, they have developed products that make the experience of wine even more unique.
A fizzling brand experience
It wasn't the improvement of the product that was the challenge. After all, Vacu Vin's passion for wine is already reflected in the quality of its items. However, it would be a waste if clients didn't recognize that quality and settle for lesser products, with competitors trying to snatch a share of Vacu Vin's brilliant concept.
Because that's precisely what happened: emerging new brands with similar products intensified the competition, putting pressure on Vacu Vin's article prices. This threatened their position as an international market leader, which they fiercely tried to maintain. Now, this is when VNDR. entered the stage. By creating and executing a strong Amazon strategy VNDR. helped Vacu Vin to reclaim their market leader position and got the brand buzzing again! And, because of their fame in Europa and the United States, this became an international challenge.
Brand experience with a smooth finish
Although good from the outset, Vacu Vin's proposition on Amazon needed additional maturation. The content was outdated and hardly advertised. VNDR. therefore focused on revamping the brand experience on Amazon by:
A complete brand experience with a smooth finish.

Content that stimulates the senses of every wine lover.

Improving visual content (A+ Content, Brand Store, Brand Story).

Generate extra attention to new product developments.

Automate business in Vendor Central through an API with their Exact Globe ERP in partnership with Semso.

Deploy advertising throughout the customer journey, including defensive campaigns.

Setting up a hybrid model (seller and vendor) in the United States and Europe.
Marketplaces & Tooling used


This means that Vacu Vin and VNDR. have a multi-faceted partnership in which we continue to deploy various marketplace services to meet and refine goals, including:
Strategy

Content

Design: A+ content, brand store, brand story

Advertising

Project Management for Vendor Central linking Exact Globe via Selling Partner API
Getting more people to enjoy. It's a noble endeavor. But they're succeeding in that mission thanks to Vacu Vin's stronger international positioning on Amazon. The brand stores received a makeover and are attracting thousands of visitors monthly. And thanks to automating their business in Vendor Central with their ERP, they can now handle the growing demand for products even better. In fact, this demand has increased by +110% since working with VNDR. And that's worth a toast. Santé!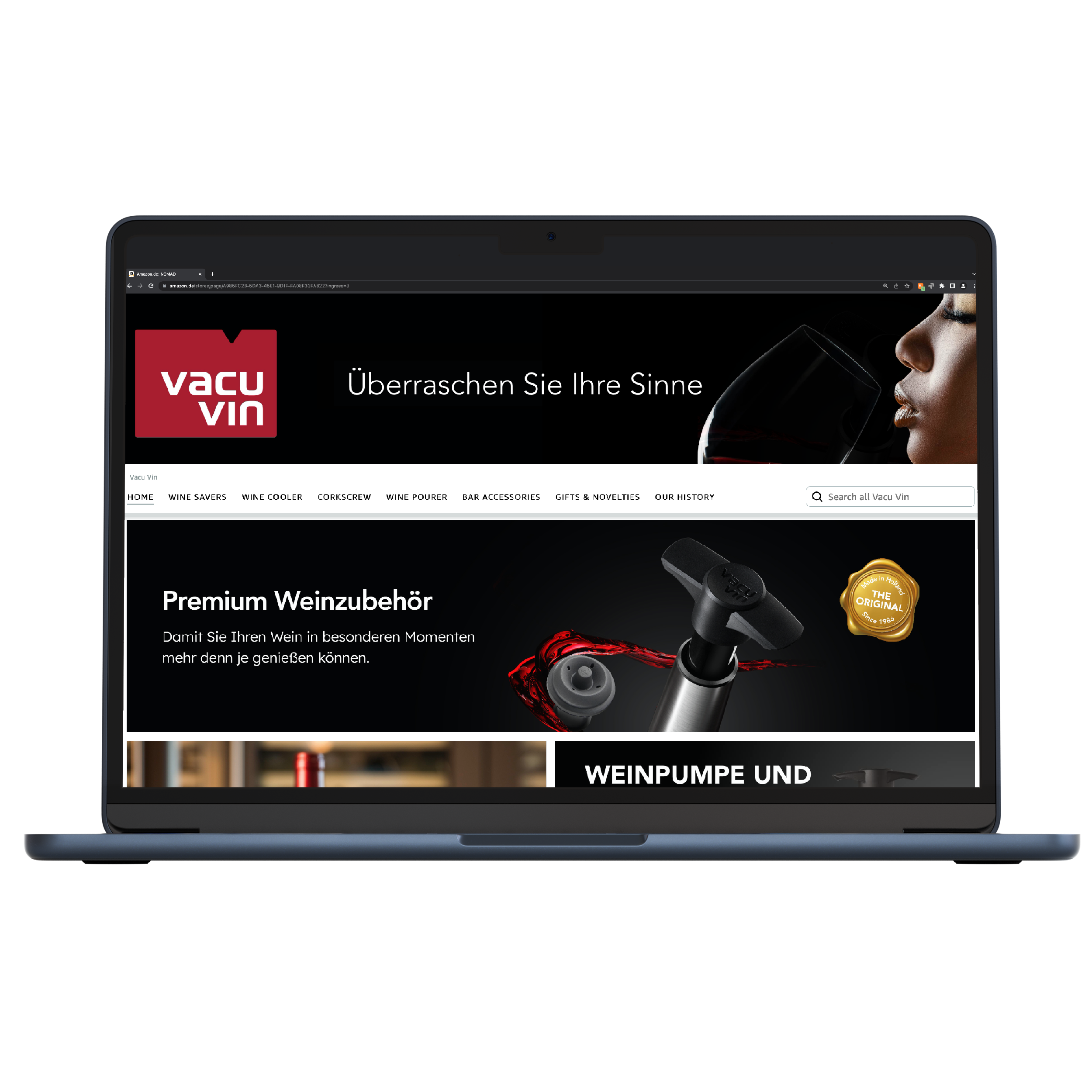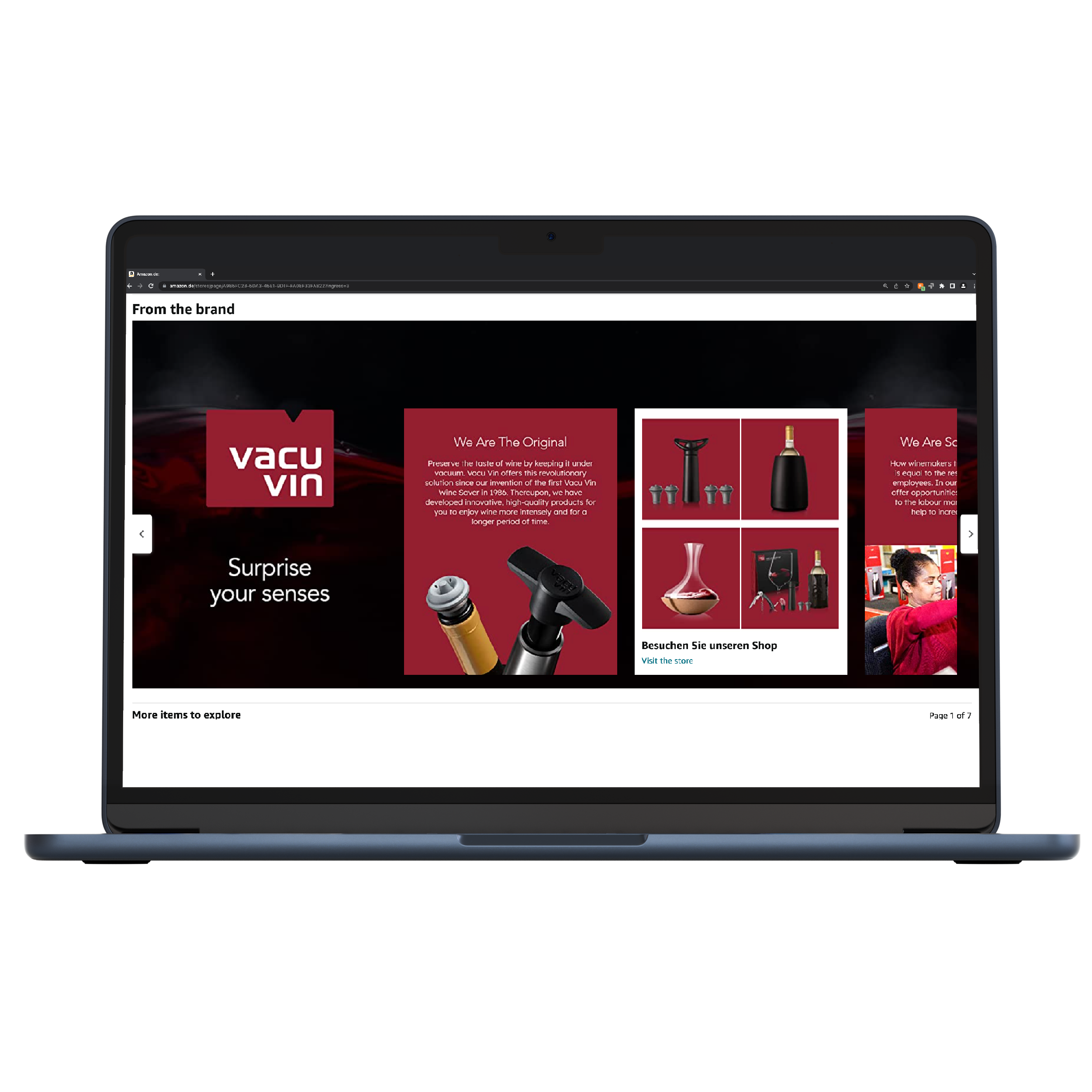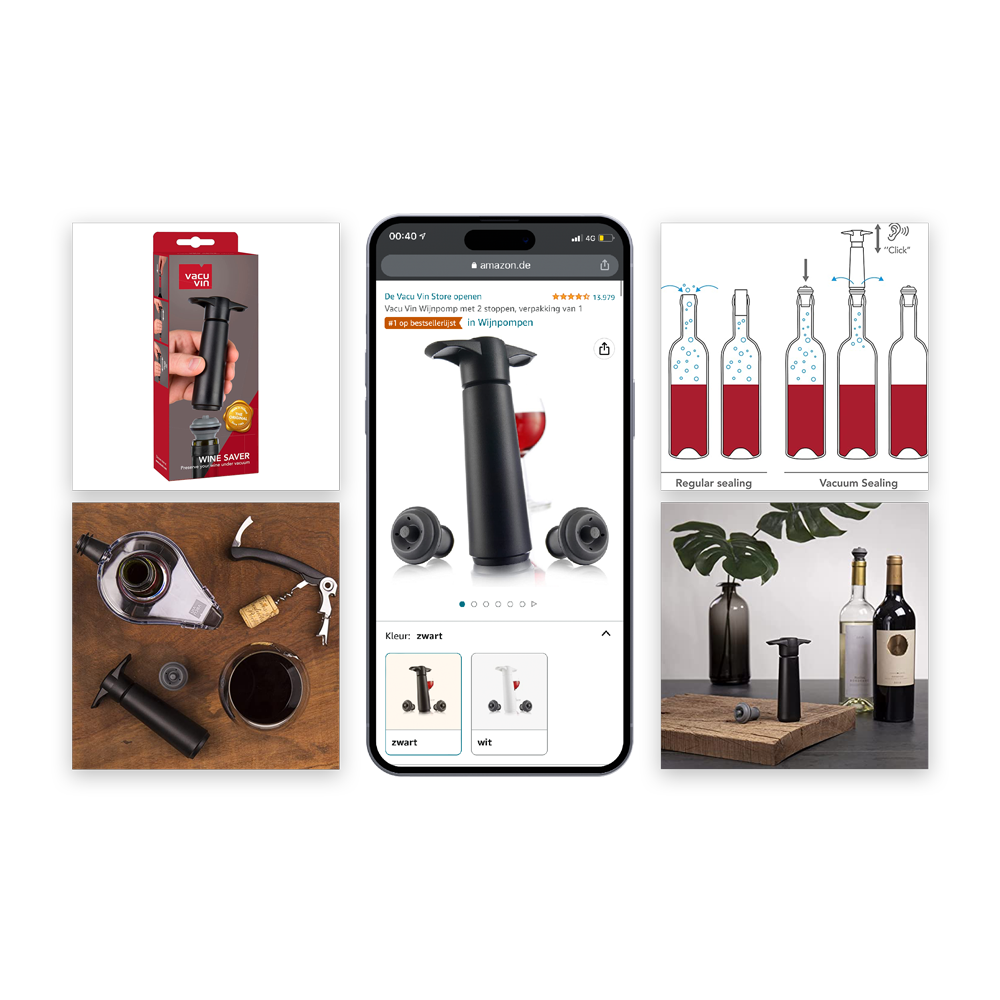 Want to know more about Vacu Vin's journey? Wondering how we can help you? Then, feel free to contact one of our specialists via the contact form/mail/phone/app. We are happy to help you!