Imagine an electric toothbrush so efficient it only requires charging four times a year. Impressive, right? While Boombrush is swiftly gaining popularity in the Netherlands and Belgium, the brand has also extended its reach into Germany and Luxembourg. The secret to their accelerated success? Amazon – the colossal marketplace that has catapulted Boombrush's growth beyond its wildest expectations. However, this journey toward skyrocketing sales has not been a solo venture; VNDR. has been the strategic partner behind the scenes, buffing up Boombrush's Amazon presence and driving its expansion.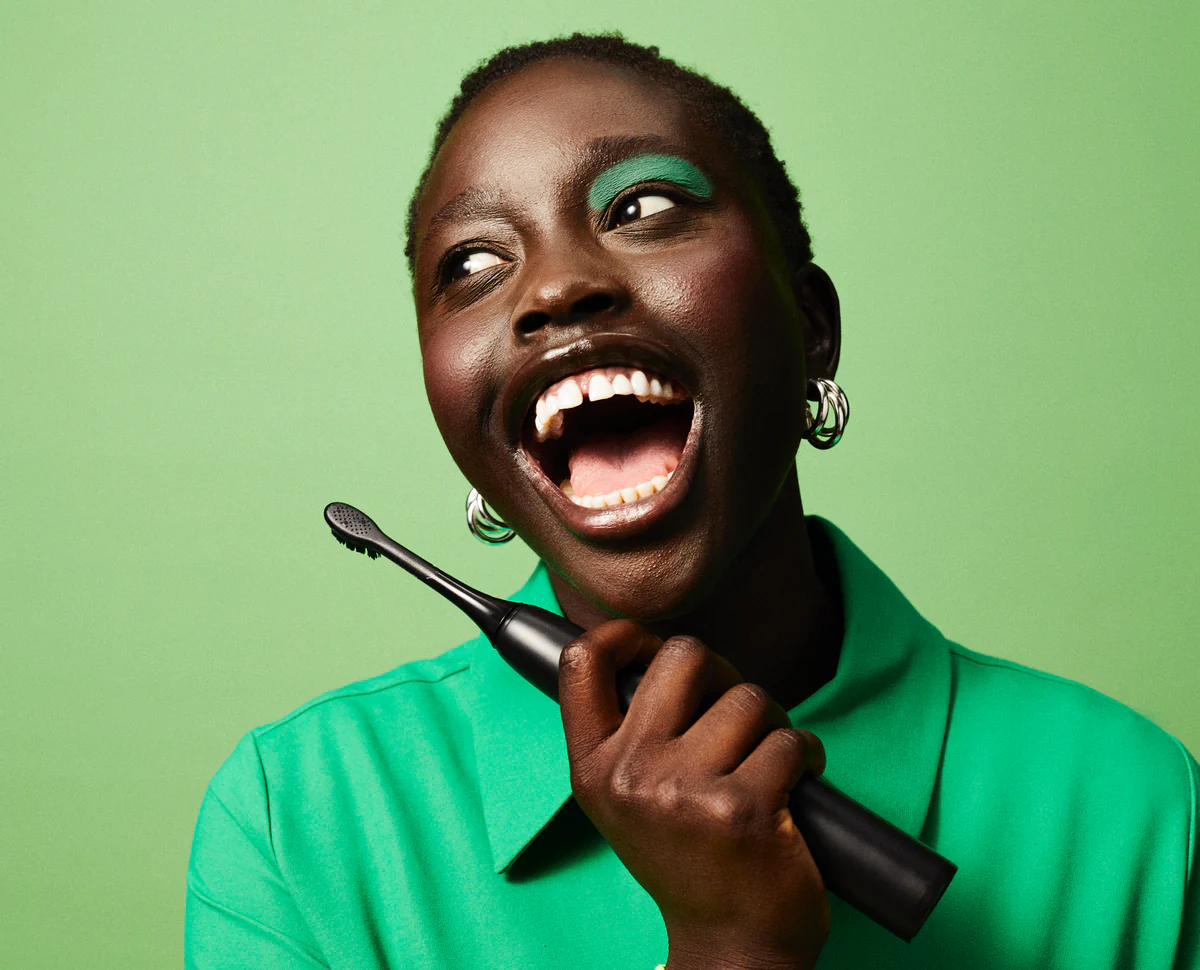 Elevating smiles with sustainability
Established in 2019 by visionary oral care experts, Boombrush emerged from a desire to innovate traditional oral hygiene practices. The brand commits to delivering sparkling smiles with its cost-effective, sustainable, and accessible oral care solutions. "Your last toothbrush ever" is not just a claim; it's Boombrush's sustainability mantra. They orchestrate the recycling of used toothbrushes and brush heads, encouraging customers to return them in provided recycled bags, ensuring these materials find a new life instead of contributing to landfill waste.
As Boombrush navigates the marketplace, they carry an eco-conscious philosophy in every decision, from product recycling initiatives to eco-friendly packaging choices.
Grabbing market share, one smile at a time
Boombrush's success story in the Netherlands and Belgium proves the demand for a product that merges oral care excellence with environmental mindfulness. The brand's next chapter involves capturing new international markets, beginning with Germany and Luxembourg. The challenge? Standing out in Amazon.de's competitive environment and sharing their compelling brand story without dilution. The goal? Propel Boombrush's market share in Europe to 2%, enabling more individuals to experience optimal oral care while reducing plastic production.
Why Amazon?
Why does Amazon serve as the launchpad for Boombrush's expansion? We can break that down into the following reasons:
Brand Visibility: Presence on major platforms catalyzes brand growth.
Customer Reach: Target customers frequently shop on Amazon.
Strategic Distribution: Amazon effectively converts visitors beyond the brand's site.
Credibility: Amazon assures logistical reliability, fair pricing, and stellar customer service.
Transparency: Customer reviews and transparent pricing align with Boombrush's values.
Now, this is where VNDR. appears on the scene. Our experience as a marketplace agency reaches far beyond the Dutch borders. What VNDR. offers fits seamlessly with Boombrush's ambition. So, it's time for a retake. With optimized SEO content, product bundles specially designed for Amazon, a completely new redesign of the Amazon listing, and a well-thought-out advertising strategy, we will make a second attempt to win over German consumers. We will do this with the following services:

Strategy:

 A business case, market research, bundles, and pricing.

New bundles:

 Yes, you can just buy the toothbrush, but we also offer bundles with additional replacement brushes and the new Boompaste – a must, as competitors also provide complete sets at a very competitive price.

Design:

 

We elevate Boombrush's design strategy, guiding the creation of A+ Premium Content, crafting a compelling Brand Story, and shaping a seamless Brand Store, all with a mobile-first approach. This enhances user engagement, strengthens consumer trust, and amplifies Boombrush's market distinction while improving navigation, conversion rates, and showcasing an extensive selection of their products to potential customers.

Full funnel Advertising:

 Putting Boombrush on the map in Germany by building a brand and taking market share away from the better-known brands.

Operations:

 Guidance and training for FBA shipments.

Reviews: Highlighting the significance of reviews, evidenced by Boombrush's impressive Trustpilot score, enhanced through strategic Vine reviews.
In addition to these services as the driving force behind Boombrush's presence on the German Amazon, we continued to look for how to position the oral care brand differently to generate more attention. We do this in three ways:
The subscription model: this is part of the new bundles and builds on their existing Refill Plan, where they send their regular customers a new brush every two months. By mimicking this on Amazon with the 'Subscribe & Save' option, we are tying long-term customers to the brand.
Push external traffic: to make the listings rank even faster, we work with Boombrush's social team and push external traffic via social media directly to Amazon.de. The marketplace loves external traffic and rewards it with visibility.
Climate Pledge Friendly: Boombrush contributes to a better environment by encouraging users to return their old brushes. They do this by providing a recycle bag and paying the shipping costs. From the returned brushes, the materials are separated and reused. This unique approach deserves a sustainability label. That's why VNDR. is working to obtain Amazon's Climate Pledge Friendly label for Boombrush.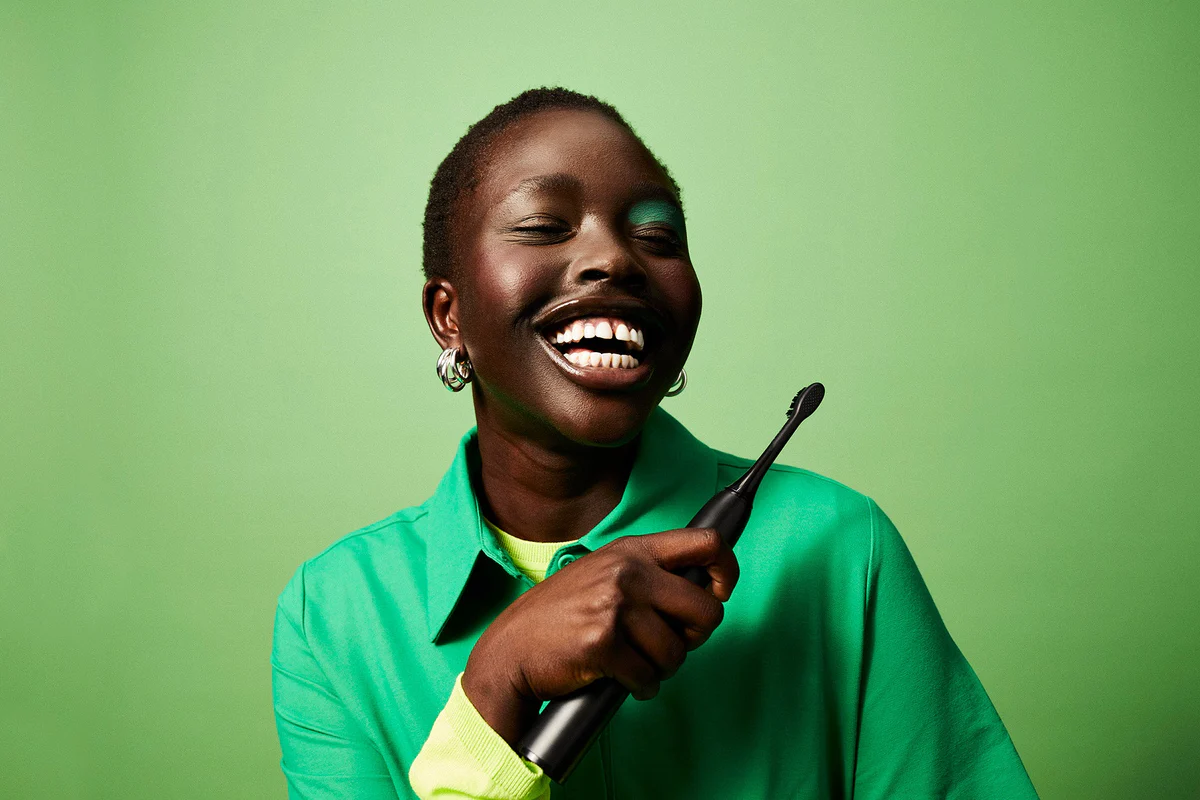 Since January 2023, Boombrush has seen a remarkable 20% month-on-month growth, with a stunning 319% sales increase up to October 2023. The momentum is driven by strategic campaign utilization, with Prime Day deals significantly boosting sales.
In partnership with VNDR, Boombrush is carving out its rightful place on Amazon. As we continue our collaborative journey, we're not just selling a toothbrush but advocating for a revolution in oral care, one radiant smile at a time.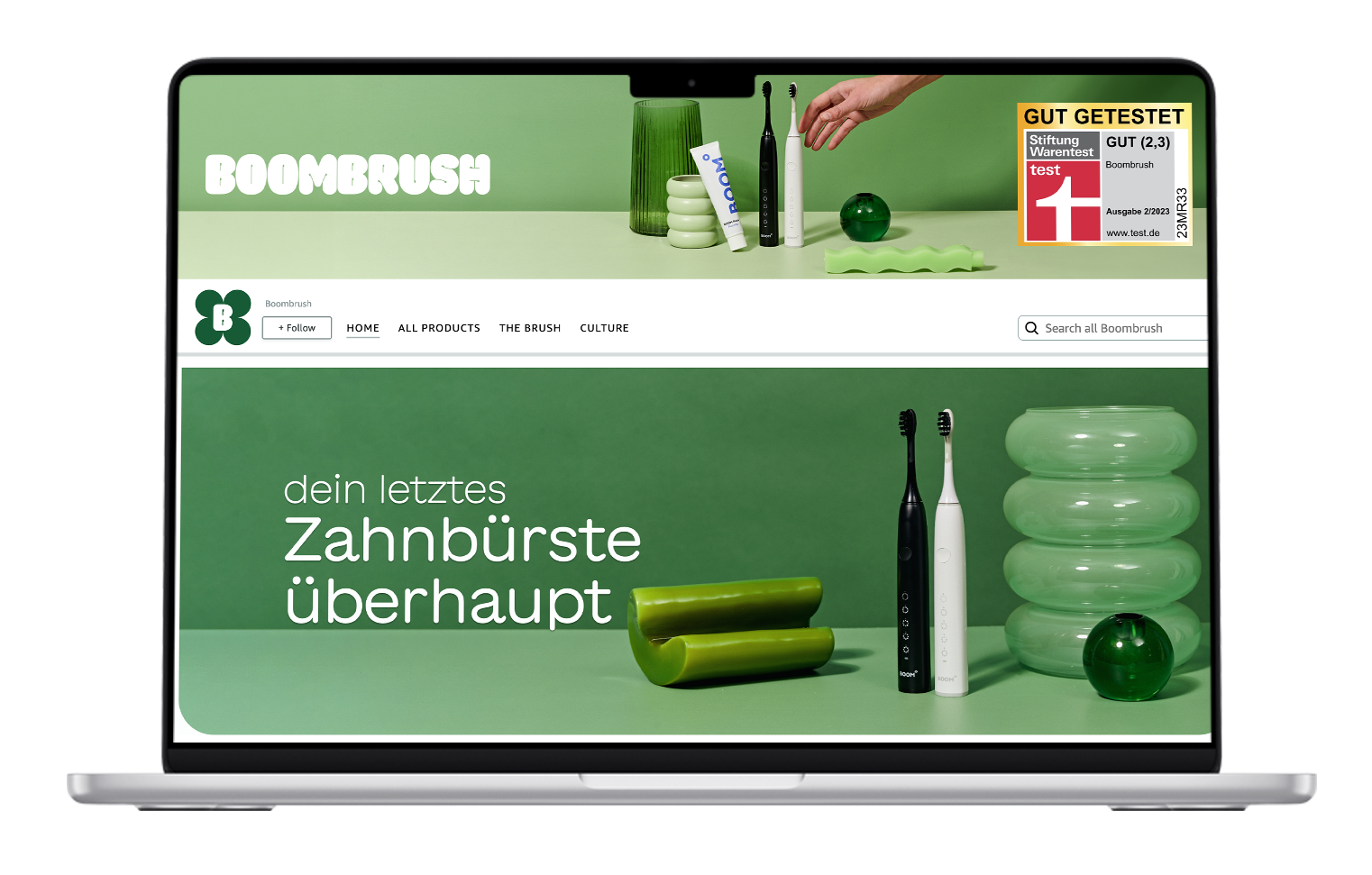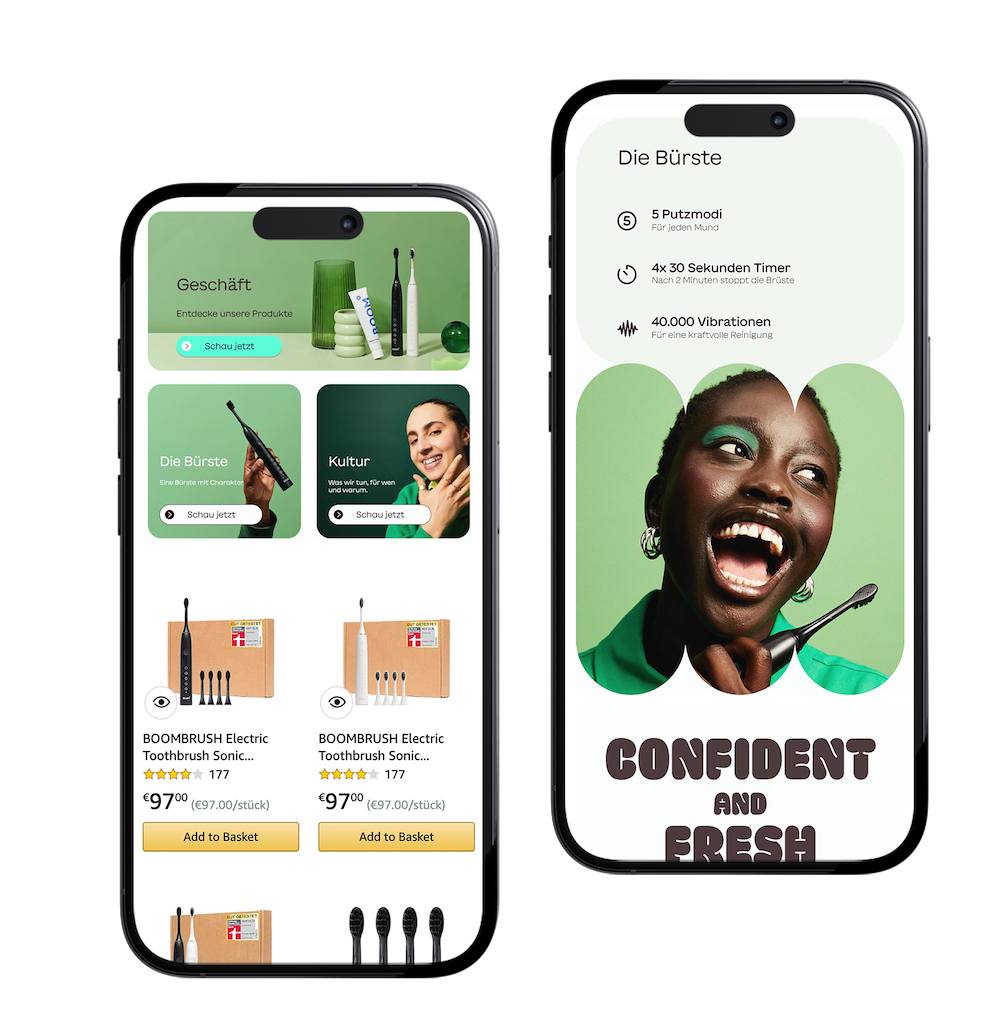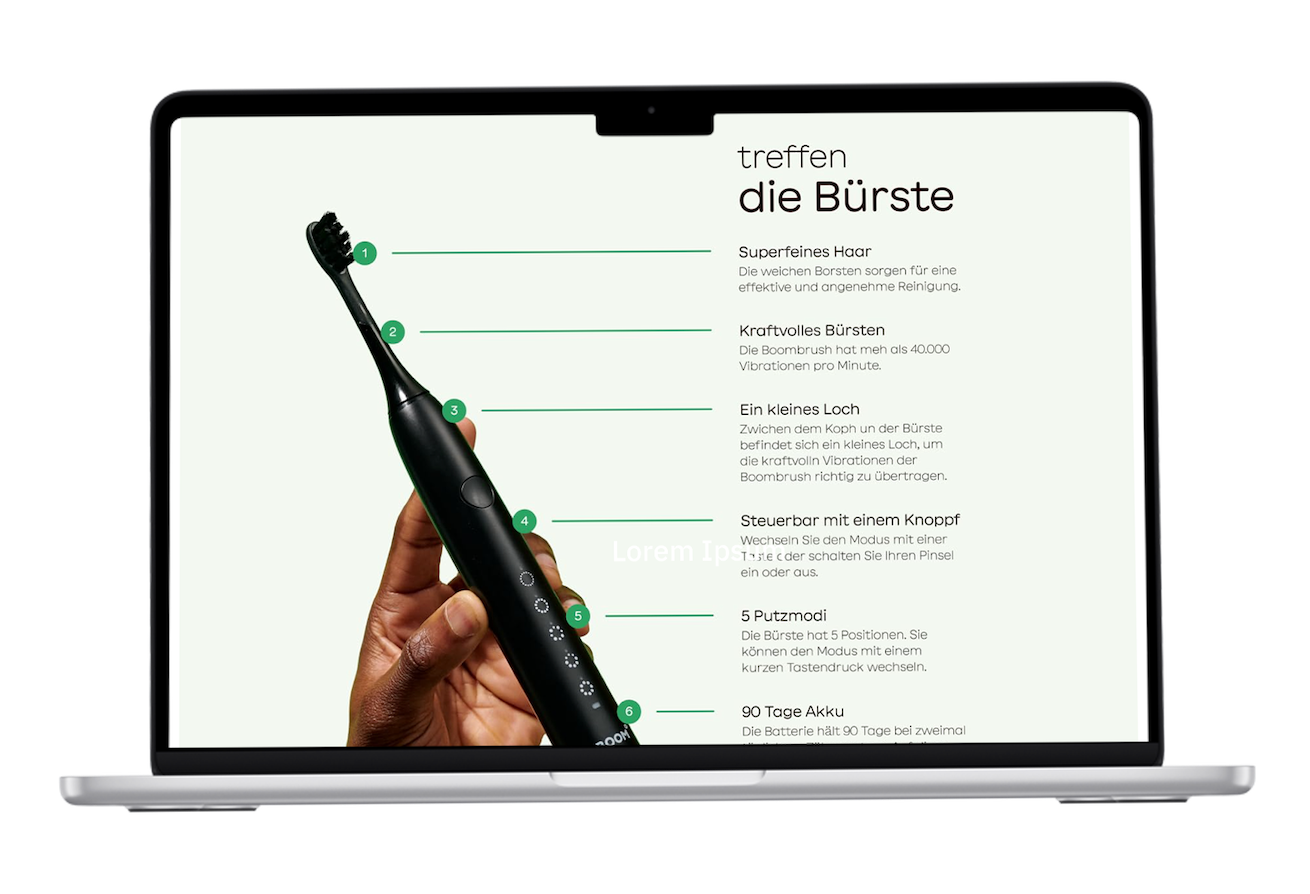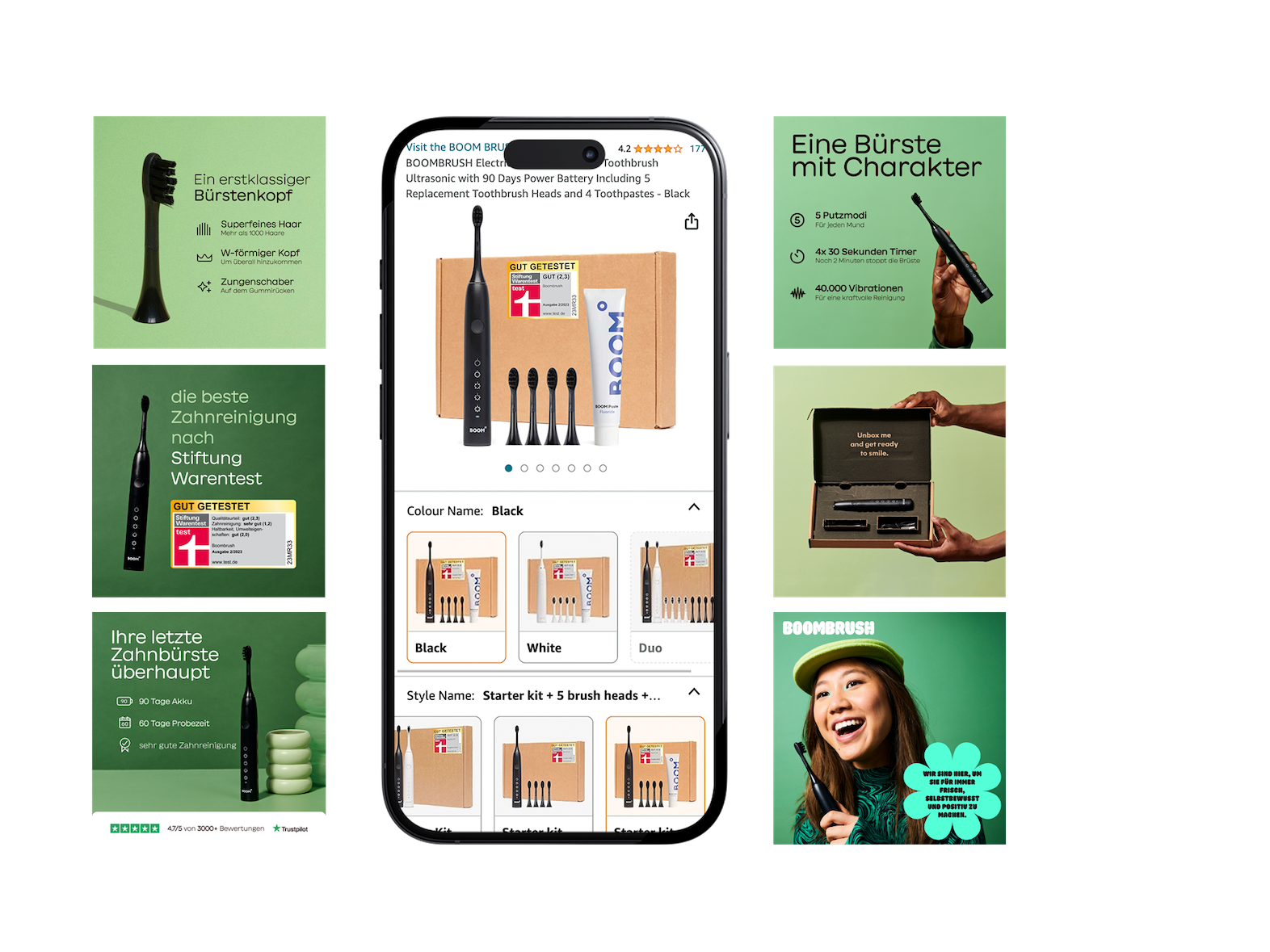 Marketplaces & Tooling used



Want to know more about Boombrush's journey? Wondering how we can help you? Then, feel free to contact one of our specialists via the contact form/mail/phone/app. We are happy to help you!