An electric toothbrush you only need to charge four times a year. It sounds so good; this must sell itself, right? Yes and no. In The Netherlands, Boombrush is winning ground at rapid speed. However, in Germany, it's still challenging to convince the Germans of this highly efficient and convenient toothbrush. That is why they are joining forces with VNDR. to thoroughly polish their existing position on Amazon Germany!
Grabbing market share, one smile at a time
Boombrush was founded not so long ago, in 2019, when a small group of oral care professionals sat down to create a new oral care brand. They felt it was about time for innovation within this field as old brushing habits didn't cut it anymore. It paved the way for Boombrush to ensure that everybody has access to a radiant smile with affordable, sustainable, and more accessible oral care.
Boombrush's mission is to give as many people as possible the best oral care with the tools they offer. They are already doing this successfully in the Netherlands and Belgium. Validating that there's definitely a market for people who want a beaming smile. That's why Boombrush is exploring new, international target audiences, of which Germany is one. But the competition is tough, so getting noticed takes time and effort, especially on Amazon.de. To still build the brand and gain market share among the big brands in Germany, Boombrush needs a relaunch their existing seller account on Amazon.de, which has been around since Q4 2020.
Re-launch on the German market
Now, this is where VNDR. appears on the scene. Our experience as a marketplace agency reaches far beyond the Dutch borders. What VNDR. offers fits seamlessly with Boombrush's ambition. So, time for a retake. With optimized SEO content, product bundles specially designed for Amazon, a completely new redesign of the Amazon listing, and a well-thought-out advertising strategy, we will make a second attempt to win over German consumers. We will do this with the following services:
Strategy – A business case, market research, bundles, and pricing.
New bundles – Yes, you can just buy the toothbrush, but we also offer bundles with additional replacement brushes and the new Boompaste. A must, as competitors also provide complete sets at a very competitive price.
Design – We guide their designer with A+ Premium Content, Brand Story, and Brand store. Fully optimized for mobile.
Full funnel Advertising – Putting Boombrush on the map in Germany by building a brand and taking market share away from the better-known brands.
Operations – Guidance and training for FBA shipments.
In addition to these services as the driving force behind Boombrush's presence on the German Amazon, we continued to look for how to position the oral care brand differently to generate more attention. We do this in three ways:
The subscription model: this is part of the new bundles and builds on their existing Refill Plan, where they send their regular customers a new brush every two months. By mimicking this on Amazon with the 'Subscribe & Save' option, we are tying long-term customers to the brand.
Push external traffic: to make the listings rank even faster, we work with Boombrush's social team and push external traffic via social media directly to Amazon.de. The marketplace loves external traffic and rewards it with visibility.
Climate Pledge Friendly: Boombrush contributes to a better environment by encouraging users to return their old brushes. They do this by providing a recycle bag and paying the shipping costs. From the returned brushes, the materials are separated and reused. This unique approach deserves a sustainability label. That's why VNDR. is working to obtain Amazon's Climate Pledge Friendly label for Boombrush.
Together with VNDR. Boombrush is getting the attention it deserves on Amazon.de. In no time, we will have convinced the Germans that Boombrush is the new way of oral care! Stay tuned.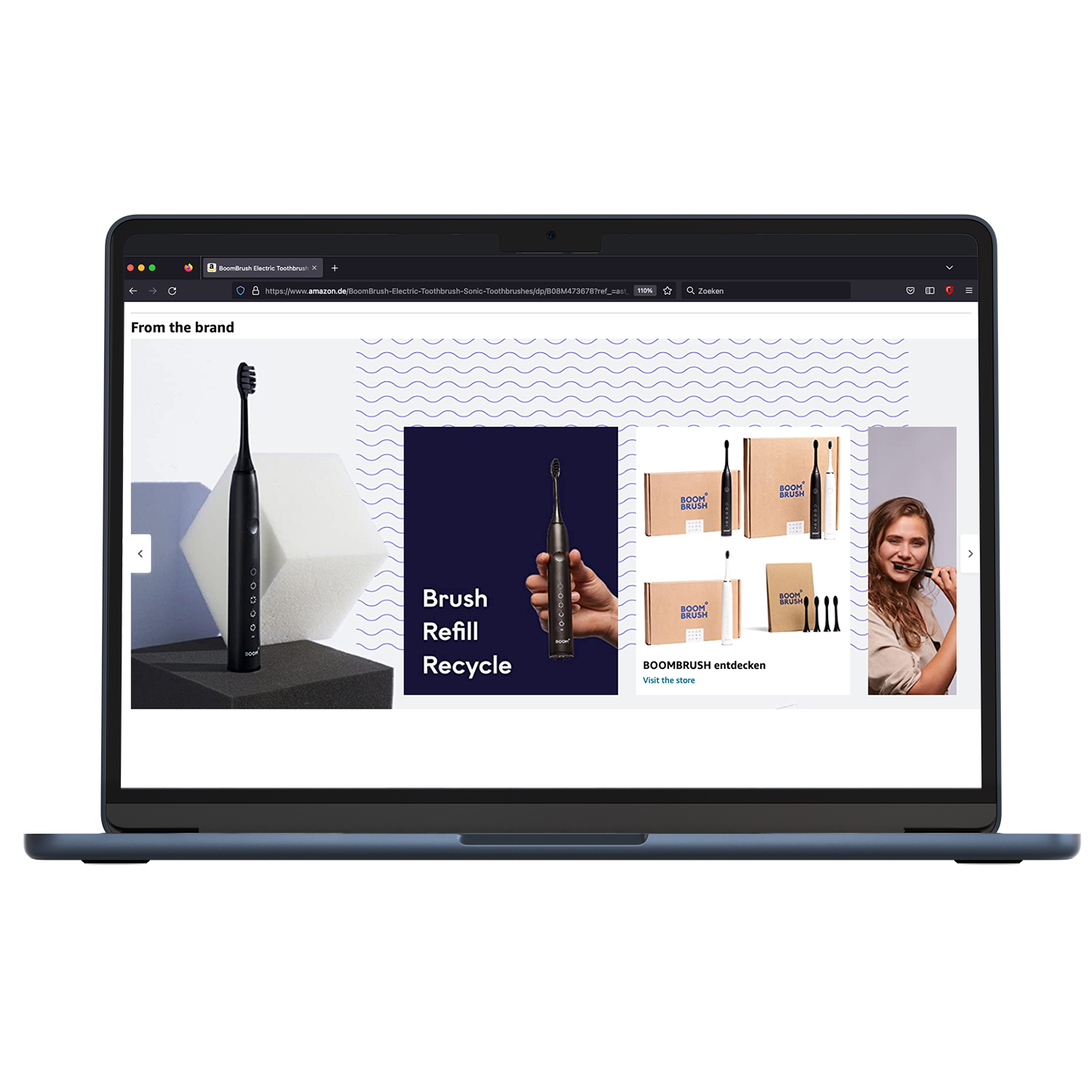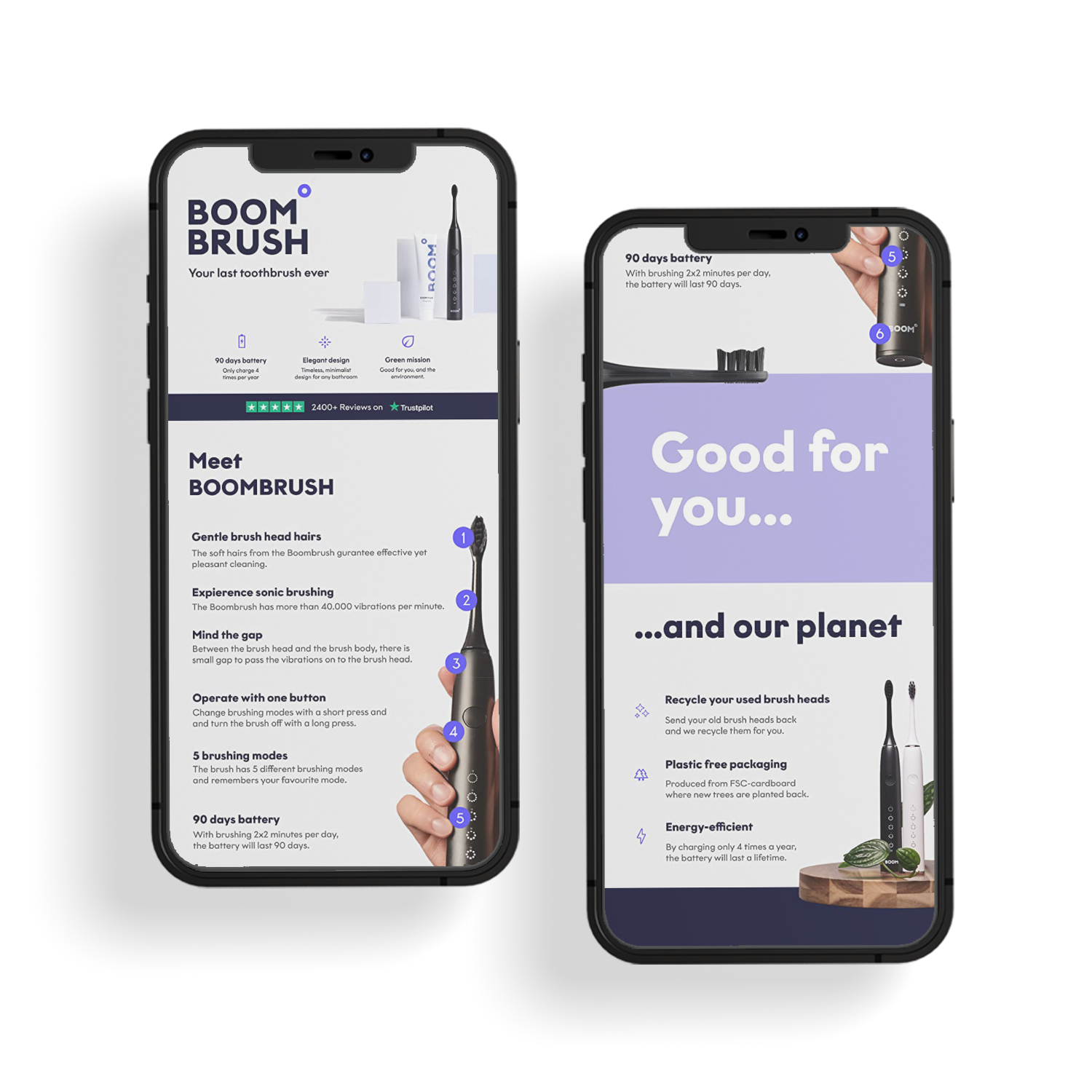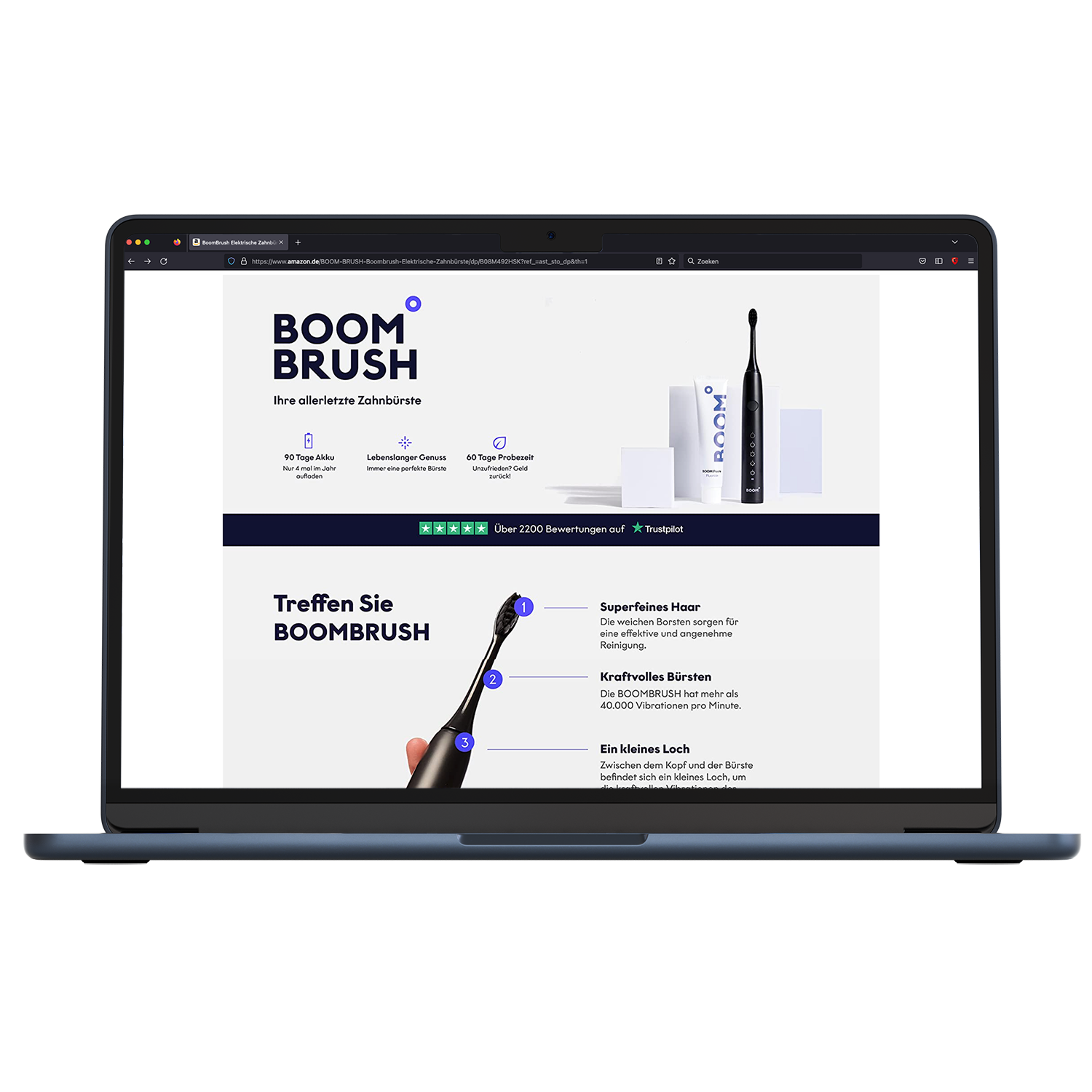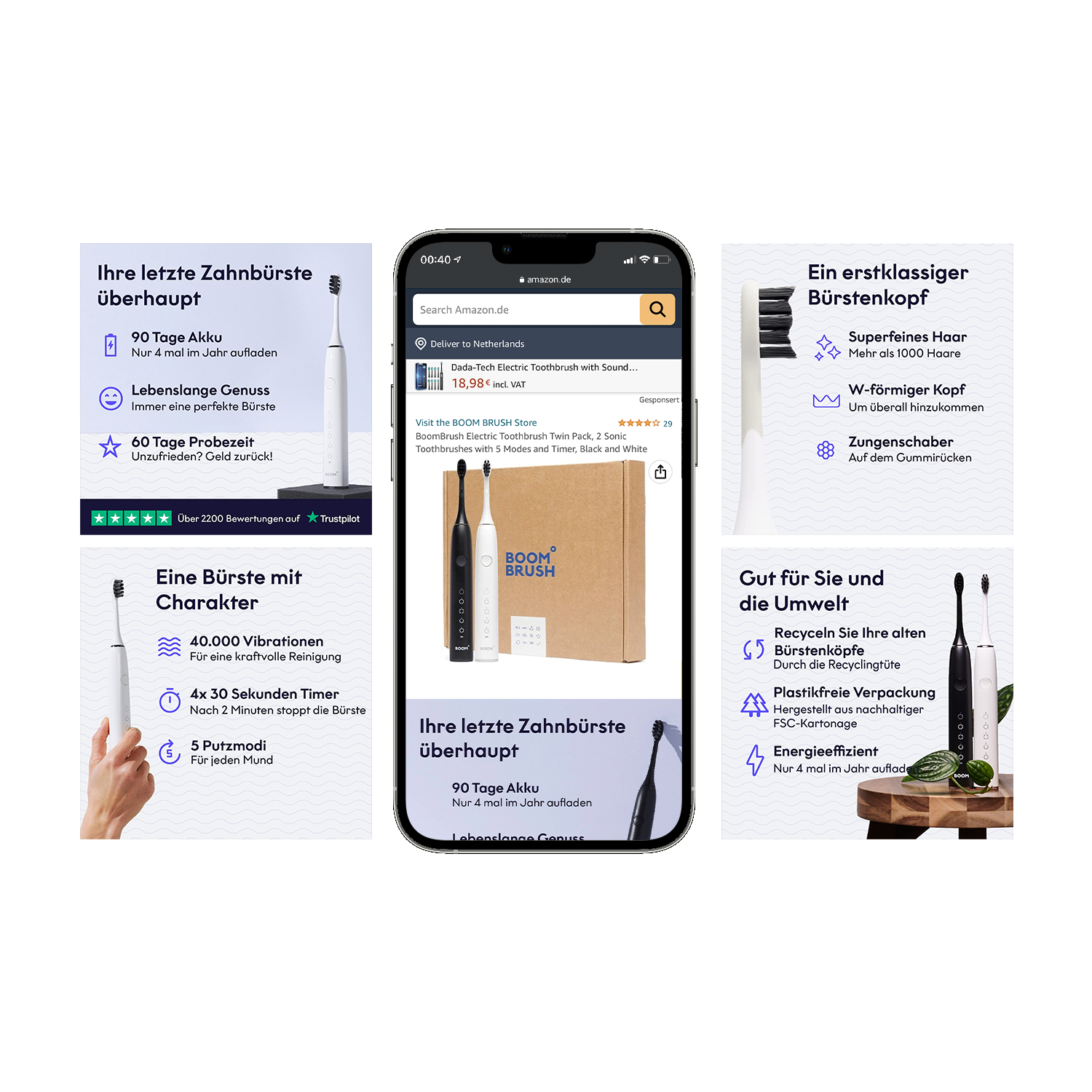 Marketplaces & Tooling used



Want to know more about Boombrush's journey? Wondering how we can help you? Then, feel free to contact one of our specialists via the contact form/mail/phone/app. We are happy to help you!